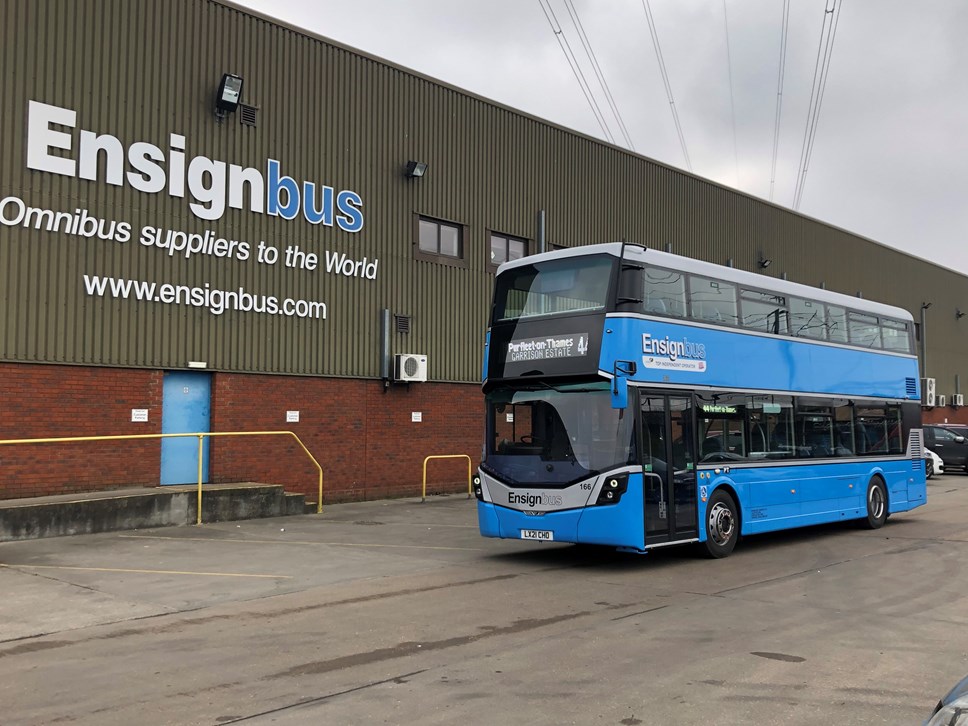 FirstGroup plc reaches agreement to acquire Essex-based Ensign Bus Company
Agreement to purchase Ensign Bus Company Limited ('Ensignbus')
Ensignbus is a high-performing business with strong positions in business-to-business ('B2B') and regional commercial bus operations in Essex, as well as a vehicle refurbishment and re-sale operation, alongside a high value depot.
Completion of the acquisition is anticipated in the next few months subject to customary regulatory review.
FirstGroup plc has signed an agreement to purchase Ensign Bus Company Limited.
The acquisition of the Essex-based business is anticipated to be completed over the next few months subject to customary regulatory review.
Ensignbus is a high-performing business with strong offerings in regional commercial and business to business bus operations in Essex, as well as a well-established vehicle refurbishment and re-sale operation.
Ensignbus' commercial bus operations comprise a local bus route network complementary to First Bus' operations in Essex and two B2B segments that include rail replacement and private hire contract operations.
The business has a young vehicle fleet of 55 buses that will be part of the sale, but the Ensignbus specialist heritage fleet is excluded from the transaction.
The acquisition of the Ensignbus business will both enhance FirstGroup's existing local commercial bus operations in Essex as well as providing a number of growth opportunities in the B2B and bus vehicle dealership markets.
Graham Sutherland, FirstGroup Chief Executive Officer, said:
"The acquisition of Ensignbus, a long-established, high-performing business, will allow us to not only grow our B2B offering, but to also enhance our operational footprint in Essex, and we look forward to welcoming Ensignbus employees to the Group. This is a strategically and financially accretive growth opportunity for us, and one that is fully aligned to our balanced capital allocation policy."
Peter Newman, Ensignbus Chairman, said:
"I want to thank all of our employees at Ensignbus for their ongoing hard work to deliver great service for our passengers across all of our communities in Essex, and we will be supporting them fully as they move to their new employer.
"We're pleased that First Bus, with their reputation for customer service, innovation and sustainability, will take the Ensignbus business forward as a going concern and we wish them a successful future. We will continue to serve our communities and operate our network as usual until the completion date."
ENDS
Notes to editors
FirstGroup plc
FirstGroup plc (LSE: FGP.L) is a leading private sector provider of public transport services. With £4.6 billion in revenue and more than 30,000 employees, our UK divisions transported nearly 1.5m passengers a day in the last financial year.
First Bus is the second largest regional bus operator in the UK, serving two-thirds of the UK's 15 largest conurbations with a fleet of c.4,900 buses. First Rail is the UK's largest rail operator, with many years of experience running long-distance, commuter, regional and sleeper rail services. We operate a fleet of c.3,800 rail vehicles through four management fee-based train operating companies (Avanti West Coast, GWR, SWR, TPE) and two open access routes (Hull Trains and Lumo).
We create solutions that reduce complexity, making travel smoother and life easier. Our businesses are at the heart of our communities and the essential services we provide are critical to delivering wider economic, social and environmental goals. We are formally committed to operating a zero-emission First Bus fleet by 2035 and to not purchase any new diesel buses after 2022; and First Rail will help support the UK Government's goal to remove all diesel-only trains from service by 2040.
In 2022 FirstGroup was named as one of the world's cleanest 200 public companies for the third consecutive year by sustainable business media group Corporate Knights in partnership with US not-for-profit organisation, As You Sow. Visit our website at www.firstgroupplc.com and follow us @firstgroupplc on Twitter.
Ensignbus
Ensignbus has been in business for 50 years and during those years we've sold over 20,000 buses to nearly 100 countries, undertaken around 25,000 MOT tests, converted over 1,000 buses to open top, undertaken over 5,000 single door conversions, operated on three continents and carried tens of millions of passengers on local service and sightseeing buses.
Ensignbus are a family run business with 50 years experience in Bus Sales, Service Work, Sightseeing Tours, Bus Conversions and Restorations. Ensignbus was formed in 1972, since which time it has been involved in many aspects of the bus industry. In the early days, a number of small contracts were operated for people such as the Port of London Authority and Lesney the toy manufactures. These small operations however became secondary to the role which Ensign has today made its own, that of buying and selling high quality used buses and coaches.