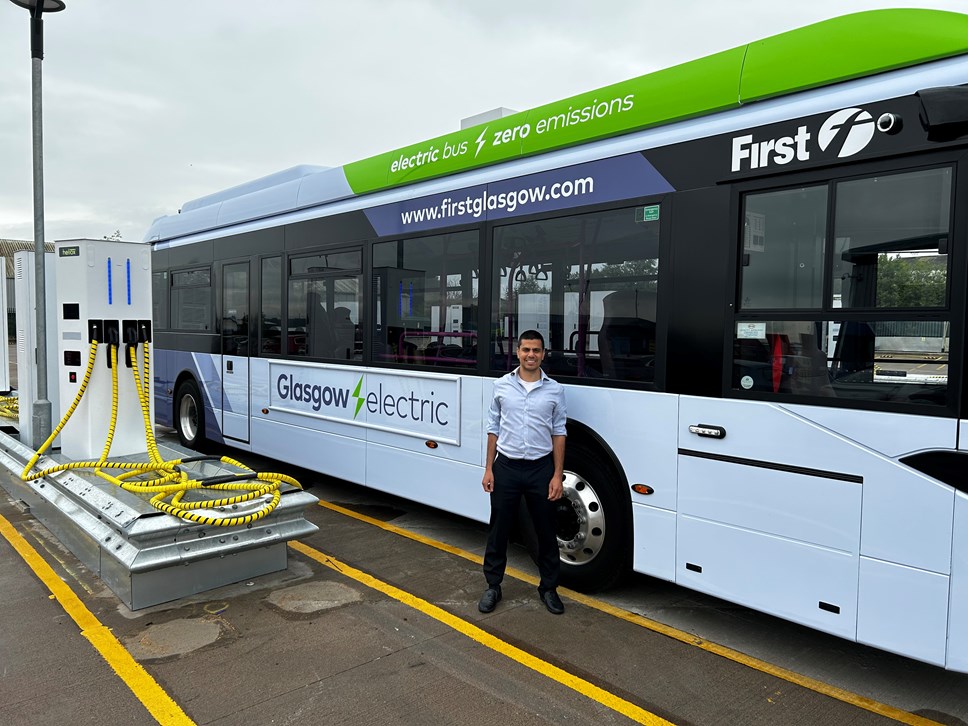 First Bus welcomes new Decarbonisation Programme Director
First Bus appoints new Decarbonisation Programme Director
Faizan Ahmad joins from Amazon and brings wealth of experience in decarbonisation delivery
First Bus is delighted to announce the appointment of Faizan Ahmad as the new Decarbonisation Programme Director.
The new strategic hire joined the business at the end of June, reporting into Chief Sustainability Officer, Isabel McAllister.
Faizan brings with him a wealth of decarbonisation experience from across multiple sectors and joins from Amazon, where he led Europe-wide EV charging strategy workstreams for the company.
Faizan will spearhead the ambitious environmental, decarbonisation, and fleet product development initiatives at First Bus, as it makes great strides towards achieving a fully zero-emission fleet by 2035. This also aligns with FirstGroup's goal of achieving complete zero emissions across all operations by 2050.
Faizan Ahmad, Decarbonisation Programme Director for First Bus UK, said: "I am excited to be joining First Bus to help the organisation deliver a very exciting and industry-leading agenda in the decarbonisation of public transport in the UK.
"The bus industry has a once-in-a-lifetime opportunity to change how people travel and encourage more people to take public transport as we transition to zero emissions.
"This is a crucial time for the transport sector, as both employees and customers are increasingly concerned about the environmental impact of their travel choices."
First Bus is accelerating its new sustainability plans to actively minimise its impact on the climate crisis, while positioning its people at the heart of that journey.
Isabel McAllister, Chief Sustainability Officer for First Bus UK, said: "I'm delighted that Faizan has joined us at First Bus to help drive forward our decarbonisation agenda as we all focus on reaching our 2035 goals.
"We're in the process of a big organisational transformation, moving from being an asset-based business focused on buses, to one that's more customer and service-orientated, which puts people and the planet at the heart of everything we do.
"Our culture as a business is changing for the better against the backdrop of all our decarbonisation efforts, and we are super excited to welcome someone of Faizan's experience to help shape and deliver our ambitious goals in this area."
For more information on the latest First Bus news click here: First Bus UK News
ENDS
Notes to editors
First Bus is one of the UK's largest bus operators. Making journeys easier for our customers, we were the first national bus operator to accept contactless card payments across all of our services and our First Bus App is voted 'best in class' amongst UK bus operators. Our most recent investments are in new, state-of-the-art buses across our key networks.
We work proactively with our local authority partners, making a positive impact on air quality, tackling congestion and improving customer experience. We are focused on First Bus becoming a leader in the transition to a low-carbon future and are committed to operating a zero-emission bus fleet by 2035; we have pledged not to purchase any new diesel buses after December 2022. We also operate the Aircoach network in Ireland.
First Bus is a division of FirstGroup.
First Bus is an equal opportunity employer