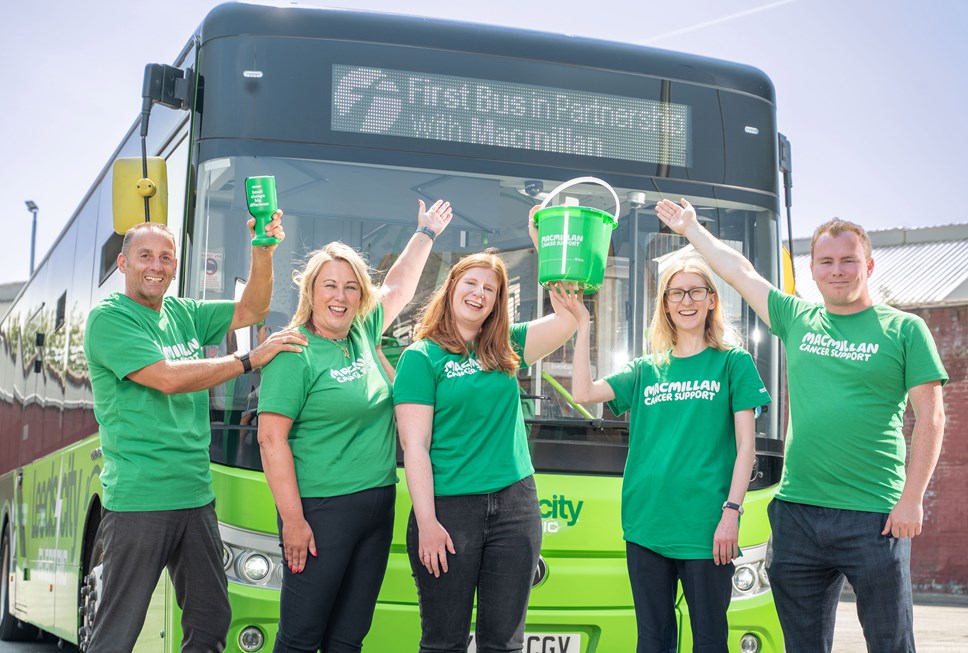 First Bus select Macmillan Cancer Support as new charity partner
- Macmillan Cancer Support appointed as new national charity partner for First Bus for next three years.
- Macmillan were chosen by thousands of First Bus colleagues across the UK operations.
- Initial donation of £10k to kick off fundraising efforts.
First Bus has appointed Macmillan Cancer Support - voted for by thousands of First Bus colleagues - as their new charity partner for the next three years.
To kick off the new national partnership, First Bus has donated an initial sum of £10k and will immediately start fundraising efforts through co-ordinated coffee mornings in aid of the charity's Find the Words campaign, which aims to promote the use of cancer support services among men of working age.
While men represent 52% of cancer cases, only 38% of the calls to Macmillan's Support Line come from men*.

This means many of them are missing out on getting the support they need. Macmillan want to encourage more men to talk about their cancer experience and seek support.
The bus operator will match fund all monies raised by colleagues across the business throughout the course of the three-year partnership.
Isabel McAllister, Chief Sustainability and Compliance Officer, First Bus UK said: "We are delighted to appoint Macmillan Cancer Support as our new charity partner for the next three years.
"Cancer is so relevant to us all and directly affects many of our people. Macmillan was the overwhelmingly popular choice for colleagues.
"We look forward to raising as much crucial funding as we possibly can through the partnership to enable the charity to continue their vital work in supporting people living with cancer and their families and friends."
Emily Shelford, Head of Partnership Management at Macmillan Cancer Support said: "We are delighted First Bus have chosen us as their charity partner. At a time when there are three million people living with cancer in the UK, the First Bus partnership will help Macmillan continue to do whatever it takes to provide essential financial, emotional and practical support to those who need it."
Find out more about the charity, their current campaign and fundraising activity here: https://www.macmillan.org.uk/.
Notes to editors
About First Bus
First Bus is one of the UK's largest bus operators. Making journeys easier for our customers, we were the first national bus operator to accept contactless card payments across all of our services and our First Bus App is voted 'best in class' amongst UK bus operators.
Our most recent investments are in new, state-of-the-art buses across our key networks. We work proactively with our local authority partners, making a positive impact on air quality, tackling congestion and improving customer experience.
We are focused on First Bus becoming a leader in the transition to a low-carbon future and are committed to operating a zero-emission bus fleet by 2035; we have pledged not to purchase any new diesel buses after December 2022. We also operate the Aircoach network in Ireland.
First Bus is a division of FirstGroup. 
About Macmillan Cancer Support
At Macmillan, we give people with cancer everything we've got. If you're diagnosed, your worries are our worries. We will move mountains to help you live life as fully as you can. And we don't stop there. We're going all out to find ever better ways to help people with cancer, helping to bring forward the day when everyone gets life-transforming support from day one. We're doing whatever it takes.
But without your help we can't support everyone who needs us. To donate, volunteer, raise money or campaign with us, call 0300 1000 200 or visit macmillan.org.uk