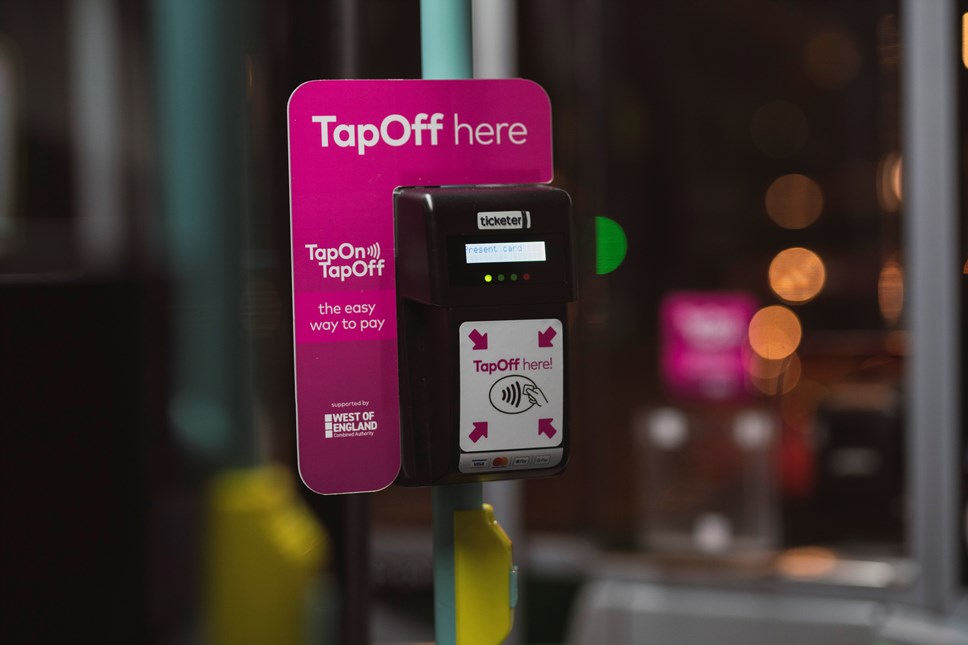 First Bus completes UK wide rollout of Tap On, Tap Off ticketing technology across entire fleet
First Bus completes UK wide rollout of Tap On, Tap Off (TOTO) technology on over 4000 buses.
First Bus is first major UK bus operator to achieve this milestone across entire fleet.
First Bus invests over £1 million alongside further investment from local authority partners.
TOTO technology allows First Bus to charge more personalised fares to customers based on distance travelled.
TOTO gives customers unlimited travel on buses, whilst never paying more than the daily or weekly cap.
First Bus and Ticketer partnership has led to a first-of-its-kind pilot in the UK using this technology.
First Bus has completed a UK wide rollout of Tap On, Tap Off (TOTO) ticketing technology across its entire fleet of more than 4000 buses, in collaboration with partners Ticketer and Littlepay.
First Bus is the first major UK bus operator to achieve this milestone thanks to an investment of around £1 million, alongside further funding from several local authority partners which has helped to accelerate the rollout.
This technology enables customers to travel on buses as much as they please, whilst ensuring they'll never pay more than the daily or weekly cap.
This distance-based charging structure makes pricing fairer for customers – allowing more personalisation so they're charged based on their individual travel requirements.
TOTO not only provides frictionless travel but will also help to reduce dwell times for passengers – with speedy boarding that doesn't require them to speak to the driver.
This technology is the first step in next-generation ticketing and allows First Bus to get more data than ever about its customers' travel habits and demand for services. This enables the company to make data-led decisions in the future that are based around its customers' needs.
Access to enhanced data around travel patterns and customer behaviours can also inform fleet management and improve operational efficiencies.
The partnership between Ticketer and First Bus has also led to a UK pilot of TOTO technology in Bridgend, Wales – where fares were calculated based on the distance travelled by each customer in a UK first for the industry.
Simon Pearson, Chief Commercial Officer at First Bus UK, said: "This is a landmark moment for the business and our customers. We are delighted to be the first major operator to offer the benefits of TOTO technology. We are always working hard to bring our customers the best possible value for money and to align bus as a valued and vital option as part of people's everyday transport mix."
Richard Blackburn-Hughes, Chief Commercial Officer at Ticketer, said: "We have been really pleased to partner with First Bus in rolling out Tap On, Tap Off travel across its network, bringing frictionless travel to millions of passenger journeys every week across the UK. Passengers are already benefitting from faster boarding and gaining confidence that they are getting the best fare, but this is just the start. This infrastructure will enable further innovation in fare models and network organisation in the future."
Sarah McLaughlin, Business Development Manager at Littlepay, said: "We are very proud of our strong partnership with First Group and Ticketer. We've had an exciting journey together over the years and are delighted to be supporting First Bus with the expansion of TOTO across its entire fleet.
"The success of this deployment is a testament to the power of partnerships in making public transport more accessible - by removing obstacles and giving riders the reassurance that they are always getting the best value fares."
[ENDS]
Notes to editors
NOTES TO EDITOR:
NB: TOTO has not been installed in Manchester, AirCoach or on any coach routes (eg RailAir and King Coaches in Aberdeen).
Total Number of Installs: Over 4000 vehicles have now been fitted with this technology across our UK bus networks.
Rollout timeline:
March 2021: First trial route in Portsmouth which was used to test the technology and customer proposition.
May 2021: First full depot TOTO rollout completion in Leicester.
March 2023: Rollout completion on over 4000 vehicles across the UK.
How do customers benefit: Customers only pay for what they use rather than being restricted by ticket types such as weeklies or 3-day tickets. Plus, new customers never need to worry about what ticket to buy, or if they have change, they can just tap on and tap off and we automatically work out the best fare for them. It's made our fares fairer.
Best usage areas (% of Adult trips as of March 2023):
Bath (40% of adult trips),
Bristol (31%),
Leicester (19%),
Worcester (17%)
Partnership benefits and future uses: This has allowed us to work with Ticketer to launch distance-based price capping in Bridgend, Wales. This trial is the first of its kind and we are currently monitoring both the system and customers behaviours since the launch.
Funding split: Local Transport Authority partnerships have been key to the successful UK wide rollout with 42% of funding coming from partners with First Bus then providing the other 58% of funding investment in the technology.
Funding was provided by Stoke council, Leicester council, City of York Council, Cornwall Combined Authority, Norfolk County council, West of England Combined Authority and Portsmouth Council (50/50).
About First Bus 
First Bus is one of the UK's largest bus operators. Making journeys easier for our customers, we were the first national bus operator to accept contactless card payments across all of our services and our First Bus App is voted 'best in class' amongst UK bus operators. Our most recent investments are in new, state-of-the-art buses across our key networks. We work proactively with our local authority partners, making a positive impact on air quality, tackling congestion and improving customer experience. 
We are focused on First Bus becoming a leader in the transition to a low-carbon future and are committed to operating a zero-emission bus fleet by 2035; we have pledged not to purchase any new diesel buses after December 2022. We also operate the Aircoach network in Ireland. 
First Bus is a division of FirstGroup.  
Find more information on First Bus here: First Bus UK News
About Ticketer
Ticketer is an innovator in transit, helping operators offer seamless passenger experiences and deliver operational excellence.
As a trusted technology partner, Ticketer provides a suite of solutions, offering a ticketing platform, a data and analytics hub, and advanced fleet management tools. Ticketer does things differently. From seamless passenger boarding to data-driven operational insight, Ticketer connects the dots to ensure everyone in the industry, both operators and authorities, have access to the latest technology.
For further information please contact: Sally Whitson | sally.whitson@ticketer.co.uk