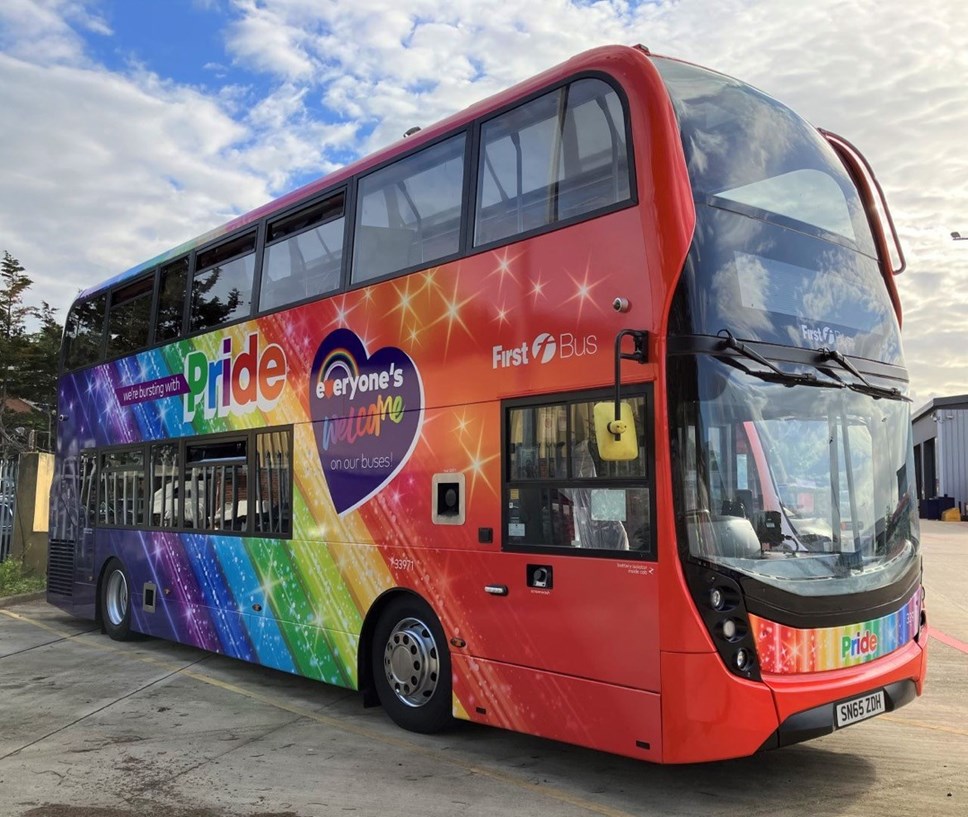 Equality, Diversity & Inclusion: Why it's a priority at First Bus
Gareth Hind, Head of Equality, Diversity, and Inclusion (ED&I) at First Bus, discusses the importance of ED&I, First Bus's plans to build a work culture that supports ED&I, and why it's necessary to make small incremental changes to make a difference.
Acknowledging the need for change
Each year, June is dedicated to celebrating LGBTQ+ communities around the world. During Pride month, we take time to reflect on the history and rights of the community, and the need for continued change. For businesses, it's a particularly poignant time to think about all aspects of equality, diversity, and inclusion (ED&I), and what we can do better.

The public transport industry has a long way to go when it comes to ED&I - we are not where we should be. This is evident across the diversity agenda, not least when we take a look at the proportion of female versus male bus and coach drivers across the UK – figures from the 2018 Office of National Statistics show that women made up just 7% of all drivers. The good news is we are already seeing green shoots on improving the gender equality in First Bus, but we need to accelerate this journey.
At First Bus, we recognise that there is work to do to improve the diversity of our workforce overall, and how accepted and respected our employees feel when they are at work. This is a challenge that we are not afraid to address, and a cause that we are absolutely committed to. We are driven to realise our ED&I ambition of creating a place where everyone is welcome, can succeed and be their true selves.
The importance of ED&I
When addressing opportunities for equality, diversity, and inclusion, it's vital that businesses and industries alike get it right. There is a huge amount of inequity in society – the circumstances in which people live are not the same, and ED&I initiatives at both macro and micro levels can help us redress this imbalance.
ED&I work can create a positive environment where colleagues and customers feel cared about, included, and respected. In the bus industry, we should also consider how reflective we are of the communities that we serve. We know what we must achieve, and we have plenty of ideas about how to get there too.

It starts with building the knowledge and confidence of leaders so that difficult conversations about ED&I and how we can progress are normalised in our working environment. It won't always be comfortable but talking about ED&I openly and frankly is necessary to build confidence and trust.
So often we hear that there is a fear of 'saying the wrong thing' or 'getting it wrong' when it comes to talking about our differences. But gaining understanding through education, awareness and conversation is one of the ways it becomes more comfortable.
It can be helpful to think of changes in ED&I on a scale. We may start thinking about inclusion in an intellectual capacity, but the more we learn, discuss, and absorb, the more that true inclusivity becomes intuitive to us. It's the difference between knowing things must change and feeling that things must change. Wider progressive change in ED&I may start with the former, but sustained activity should lead to the latter because of deeper knowledge, confidence, and empathy. We need to learn to celebrate difference.
Building trust
For Pride, Andrew Jarvis, Chief Operating Officer of First Bus, has taken the role of Executive Pride Sponsor and has fronted the campaign this year. With a senior leadership team that embraces ED&I initiatives and can comfortably discuss and enact them, we will build trust among colleagues. This will encourage the sharing of stories, thoughts, and data to help our business understand the current feeling of our colleagues around ED&I and how we're tracking against our aims.
Eventually, we'd like colleagues to feel comfortable enough to share their own suggestions about how we could further improve our ED&I initiatives and talk honestly about their experiences. We need open and honest dialogue to create and sustain a culture of allyship. In this type of culture, the words, actions, and behaviour of leaders should support, amplify, and advocate for, individuals who come from different backgrounds or groups than themselves.
At First Bus, we have ambitious plans that we are accelerating, to help us on our journey to a truly inclusive business. These include executive sponsorship of the six inclusion strands, inclusion networks behind each executive sponsor and plans for a reverse mentoring programme called 'a day in my life'.
There will be a campaign to invite colleagues to share more of their equal opportunity data with us to allow us to drive meaningful action and we are embracing storytelling as a powerful tool so we can hear from our very own colleagues, to help educate and build awareness for everyone at First Bus. It's all designed to build momentum and create a movement of allyship across our business.
This is all absolutely necessary if we're hoping to change thinking and perception – both internally and externally. We know that ED&I is not just one standalone piece of activity – it is a long-term commitment that requires a continuous drumbeat of conversation, education, and action. The responsibility of enacting this journey doesn't sit with one person – it's everyone's responsibility to play their part and get on this bus!
Turning conversation into action
Beyond education and conversation, we'll be implementing a pipeline of practical steps to improve our approach to ED&I. There are a number of areas of the business that we can consider afresh through an ED&I lens – for example, recruitment. Examining how we appeal to, assess, and select applicants is a clear place to begin building a more diverse workforce. But this is only sustainable by developing governance, policies, and infrastructure to support it.
If we consider our approach at interview, if English isn't the first language for an applicant, are we setting them up for success if the interview is reliant on strong English, whether that be written or verbal? It's incredibly important that our bus drivers can converse with customers, but is a written test the best way to assess this? Additionally, in some communities we serve, some of our customers may speak English as a second language, so those communities may benefit from having bilingual bus drivers. These are just some questions that could lead to small changes that could have a big impact.
Once colleagues are in the business, it's important that we live up to our commitments to them. That we keep our promises and deliver on the deal. This month, we've been flying the Progress Pride Flag, whereas previously we have used the traditional Pride flag. Using the Progress Pride Flag better represents and reflects more identities within the LGBTQ+ community, and we've been educating our team on what the flag symbolises and why it's important. Colleagues have joined us from across the pride community to share their lived experience and offer their advice on what we can all do to be better allies. We're hopeful that this will help diverse members of our team feel acknowledged and represented.
Alongside this, we are hosting a series of activities that will help us reinforce our values and our employee proposition. These include the launch of our new purpose and "Our Way" - the four values that we expect of each other, showing that our way of doing things is just as important as what we do.
Hard work but long-term benefits
There are challenges ahead of us but putting in the work now will yield great results for First Bus, and we're hopeful that the rest of the industry will continue progressing too.
Employees that feel included and respected are more engaged. Employees that are more engaged contribute great ideas from a range of minds, and this diversity of thought will ultimately benefit our business and our customers.
We know this journey isn't going to be easy. But we also know that together, in First Bus and across the wider industry, we have the opportunity to shift the culture to one of inclusion, where differences are celebrated and where everyone is welcome and can be their true selves, every day.
Notes to editors
First Bus
First Bus is one of the UK's largest bus operators. Making journeys easier for our customers, we were the first national bus operator to accept contactless card payments across all of our services and our First Bus App is voted 'best in class' amongst UK bus operators. Our most recent investments are in new, state-of-the-art buses across our key networks.
We work proactively with our local authority partners, making a positive impact on air quality, tackling congestion and improving customer experience. We are focused on First Bus becoming a leader in the transition to a low-carbon future and are committed to operating a zero-emission bus fleet by 2035; we have pledged not to purchase any new diesel buses after December 2022. We also operate the Aircoach network in Ireland.
First Bus is a division of FirstGroup.