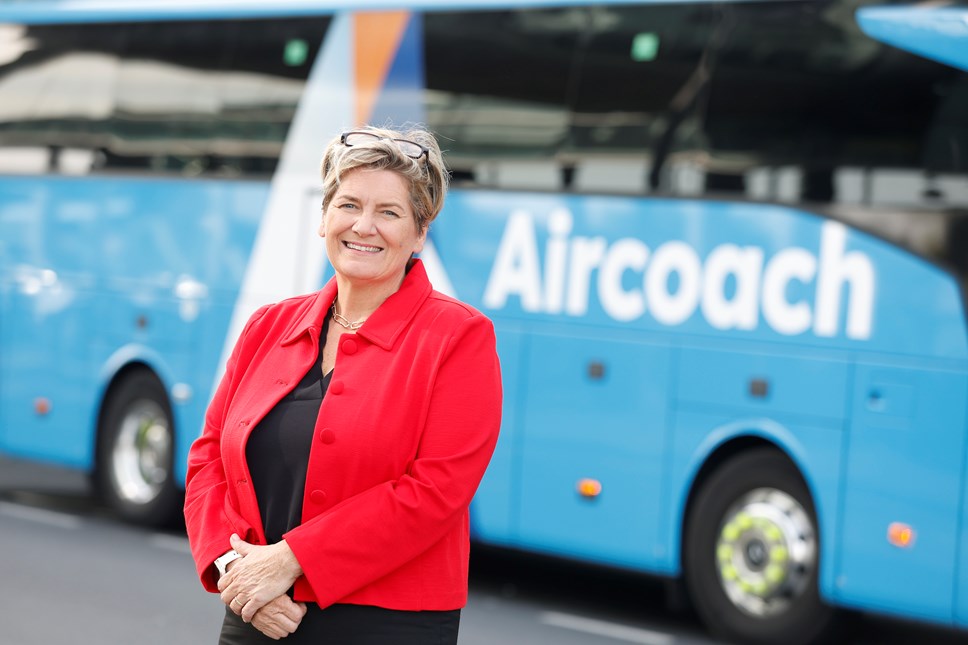 Aircoach appoints Kim Swan as new Managing Director
Kim Swan joins from P&O Ferries and brings over 30 years of leadership experience.
Aircoach, Ireland and Northern Ireland's leading private bus and coach operator, is delighted to announce the appointment of Kim Swan as the new Managing Director.
Kim, who officially joined on September 11, brings over 30 years of leadership experience in customer and commercially focused roles across transport and logistics. Most recently, Kim was Interim Managing Director for P&O Ferries.
She joins Aircoach with a wealth of experience in leading change, building successful teams and developing trusted relationships with key stakeholders, including clients, regulators and trade bodies.
Kim Swan, Managing Director for Aircoach, said: "I'm absolutely delighted to be joining First Bus to lead the team at Aircoach. It's clear to me the business has a solid foundation and is a great platform to deliver our sustainable growth ambition.
"My priority is to get out and about in the business, meet teams face to face, listen and support new ideas and innovation and continue to transform and grow this brilliant business."
Gary Hitchmough, Chief Growth Officer for First Bus (parent company of Aircoach), said: "We're delighted to welcome Kim on board, she will be a safe pair of hands to lead the business forward with her vast experience in the transport sector. I look forward to her steering the business to further success as we continue to support our customers and communities in Ireland and Northern Ireland."
For more information see www.aircoach.ie
ENDS
Notes to editors
Aircoach is Ireland and Northern Ireland's leading private bus and coach operator and provides a range of high-frequency, quality scheduled coach services to and from Dublin City Centre and Dublin Airport. The company is proud to hold the title of 'Airport Coach Operator of the Year 2020' and remains committed to innovation.
First Bus, a subsidiary of First Group Plc, is one of the UK's largest bus operators. Making journeys easier for our customers, they were the first national bus operator to accept contactless card payments across all of our services and our First Bus App was voted 'best in class' amongst UK bus operators. Our most recent investments are in new, state-of-the-art buses across our key networks. We work proactively with our local authority partners, making a positive impact on air quality, tackling congestion and improving customer experience. We are focused on First Bus becoming a leader in the transition to a low-carbon future and are committed to operating a zero-emission bus fleet by 2035; we have pledged not to purchase any new diesel buses after December 2022.
Link to Aircoach website.