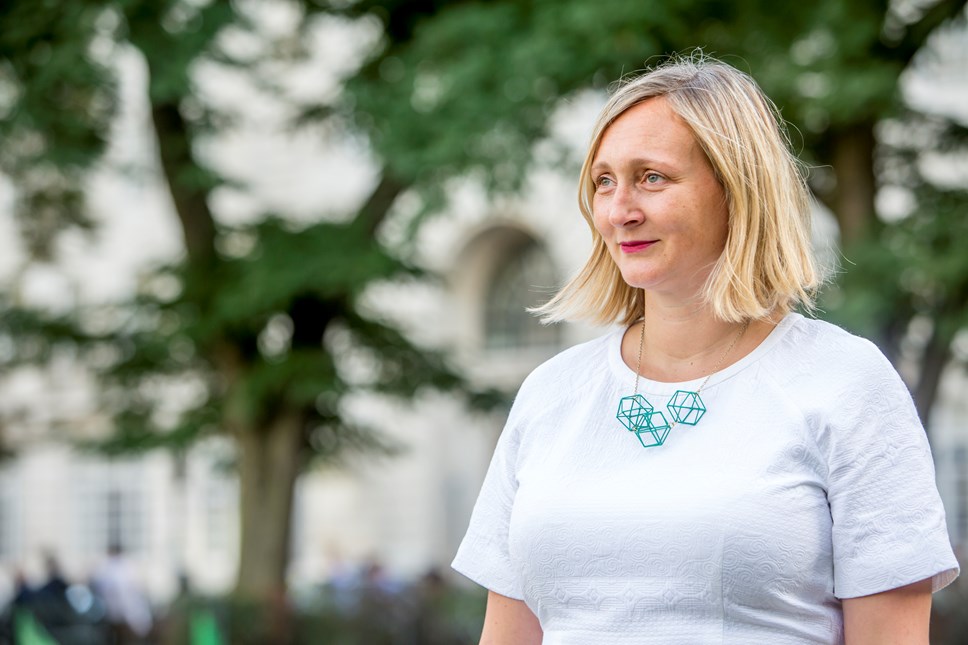 Why the time to diversify our transport and STEM industries is now
Isabel McAllister recently completed First Bus' new exec team when she joined First Bus as Chief Sustainability and Compliance Officer, bringing a wealth of knowledge and experience in the field of sustainability from her time in the built environment sector. For International Women in Engineering Day, she reflects on what she wants women who are considering joining the industry to know, and why it's so important to improve gender diversity in STEM.
I've been very fortunate to have had a lengthy and meaningful career – from studying environmental science and languages at university, to working in labs overseas, to spending 23 years in the built environment sector amongst great minds and working for leading businesses. The projects that I have been a part of have been cutting edge, and I've collaborated with clients and partners that haven't been afraid to make bold commitments in the sustainability realm – it's been fulfilling, and I'm proud of my achievements.
Sustainability has always been my bread and butter, and I'm excited to bring my experience to a new industry, one where there is rich scope to grow. Not just for me, and not just in terms of improving the sustainability of the sector – there are exciting growth opportunities for anyone considering a career in engineering, or their next career steps. The bus sector is going through a huge transition at the moment, with a laser-sharp focus on shifting from diesel to zero emissions vehicles. The impact on society, both nationally, and in the local communities we serve, and for our environment, is extremely exciting. I want more women to be a part of it.
Diversity of thought is key
It's vital for women to know that there is an important place for them in the transport industry – as there should be in every sector – on the front line as drivers, engineers, supervisors, or in the less visible behind-the-scenes team of specialists, for example, commercial modellers and communications practitioners. The transport industry is perceived to be quite male-dominated, and from the outside looking in, it might feel difficult to understand where women fit in. There is a long way still to go, but First Bus is transparent about the need to improve gender diversity in the industry and throughout its own business, which is an important step in the right direction. But it isn't just about statistics – diversity of thought is essential for any type of progress, whether that's societal or career-related.

Those with experience or an interest in STEM tend to be very curious, which is a quality that the industry values. From personal experience, curiosity manifests as wanting to evolve as an individual, wanting to help transform your sector, and accepting new challenges. The bus industry needs curious, trained STEM brains to tackle problems like the need to decarbonise and will learn even more from insights from different types of people, with different backgrounds and life experience.
My own goal is to accelerate the process of 'going green' and engage with colleagues and customers to prove that green is commercially viable in addition to being the right thing for businesses, as well as society. It is a quickly growing area, with clear purpose, and it attracts great minds. In my previous role as Global Head of Responsible Business at MACE, I grew a team of four, to a team of 130, 50% of whom were amazing women! Women are incredibly capable of making a significant difference to businesses, and the transport industry is increasingly embracing this.


Challenges can be overcome
There continue to be challenges to being a woman in STEM, both in the transport industry, and beyond, and if you are a woman in engineering or a related industry, you may already be familiar with some of them.
If there is one piece of advice I want to pass on to other women, it's that you do not have to overcome these challenges alone. Building a network of people who can help you in your professional journey by buddying up with champions and like-minded allies, or by finding a mentor, is absolutely key.
I have built my career with the help of, and learnt so much from, other like-minded people in STEM, and have directly experienced the value of strong role models, both women and men. It is so important to identify supportive, positive qualities in your leaders and your peers, and cultivate professional relationship with those that hold them. For example, I was very successful in growing my former team, precisely because I was a strong advocate for equity and a supportive culture. This meant that people often asked to move sideways in the business, and it also helped recruitment because we were an appealing team to join. I hope to do the same at First Bus.
It's an exciting time to join bus
For women that may be on the fence about joining the bus industry, I'd say, "Do it". Engineering within the bus sector is experiencing a transformative moment - people in these roles are shaping the future of bus services, and we can draw from demographic patterns and societal trends that bus will be critical to a modal shift towards mass sustainable and affordable travel.
At First Bus, we're training our current engineers to work on new types of low and zero-emission buses – from hydrogen to electric, so anybody that does join can expect to be exposed to new technologies and learn new skills. Engineers are problem solvers; they want to be part of solutions and positive change. Bus ticks all of these boxes.
Personally, my move into bus was an extremely conscious choice. I loved working in property and construction but wanted to work in a sector and company that is purpose-led. I joined to help First Bus navigate their sustainability journey more effectively and commercially – and as part of that, I'll be seeing where we can move a little faster, be that through updating our property portfolio, our buses (naturally), or other aspects of the business. I'll also be developing a more structured community strategy, giving more colleagues and partners the chance to get involved in volunteering, charity partnerships, outreach, and employment programmes. I also really, really want to drive a bus!
Opportunities for all
If you or someone you know wants to pursue a career in bus or engineering, I encourage you to take a look at First Bus' current open driver roles or apprenticeship programmes to see what opportunities there are. I'm here rooting for you.