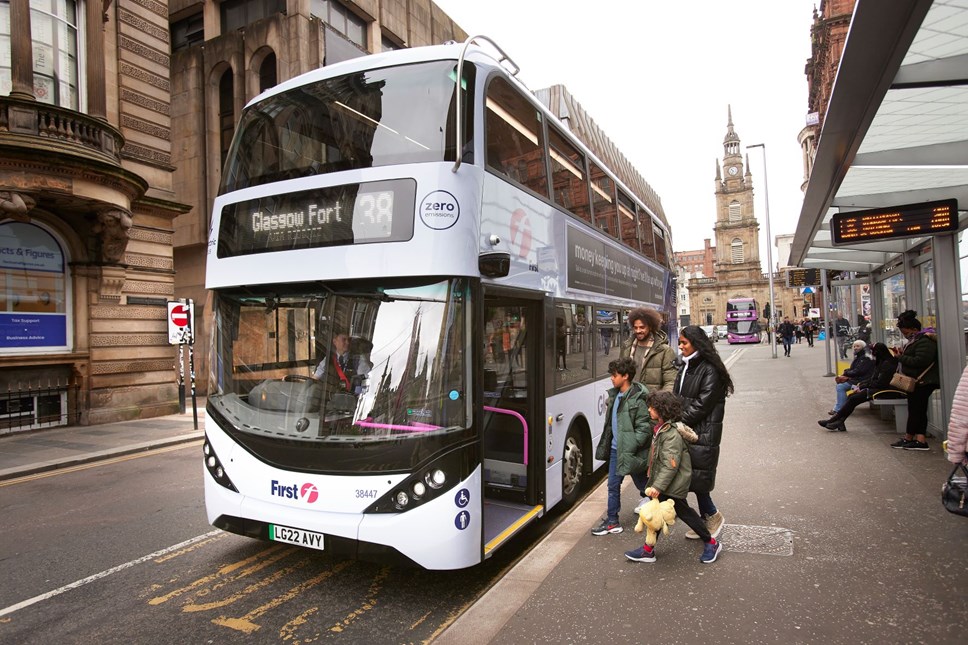 Half of UK adults would take the bus more often if they knew the direct positive impact on environment.
First Bus data shows half of UK adults would take the bus more often if they knew that decision would have a direct positive impact on the environment.
No parking hassles (45%), saving money (36%) and protecting the environment (29%) are three biggest benefits of choosing bus travel.
47% of Brits who live in London agree that taking the bus helps with their mental health more than other modes of transport
Half of UK adults have agreed that they would take the bus more often if they knew that decision would have a direct, positive impact on the environment, according to new research from First Bus.
The three main factors people say are the biggest benefits of choosing to travel by bus over a car are the no parking hassles (45%), saving money (36%) and protecting the environment (29%)..
The data, which provides a snapshot view of UK travel habits and attitudes towards benefits of sustainable transport, was commissioned by First Bus to highlight the benefits of bus travel for World Car Free Day (22nd September). First Bus believes that bus has to be at heart of a transition to a net-zero emission future and can help in a number of ways. For example, just one single full double decker bus can remove up to 75 cars worth of pollution and congestion from our roads.
First Bus has recently placed the single largest ever electric bus order, outside of London and will now have over 500 zero emission vehicles in active service on UK roads by March 2024. These clean buses can play a major role in reducing First Bus' tail pipe emissions and carbon footprint. By replacing older buses, this latest zero emission bus order (193 vehicles) saves Approx 11,745 tonnes CO2e savings per annum - that is the equivalent of removing 5,555 diesel cars from our roads.
Today, Thursday 22nd September, is World Car Free Day where people all around the world in towns and cities are encouraged to cut down on the number of vehicles on the roads which would have a direct impact on carbon emissions.
The need to change our travel habits for the better has never been greater and with the cost-of-living crisis taking hold, there has never been a better time to make the decision to do what is both better for our pockets and the environment.
The research by First Bus shows, that 46% of 16–24-year-olds have started taking the bus because of the cost-of-living crisis as it is seen as a great way to save money on petrol, help the environment and also considered more relaxing than driving.
With good health and wellbeing perhaps more important than ever post-Covid, 43% would choose going by bus as this is a more sustainable travel option with a further 35% admitting it helps with their mental health more than other modes of transport and 21% believing it makes them less stressed while 20% said it made them happier.
First Bus UK, Chief Sustainability & Compliance Officer, Isabel McAllister, said:
"At First Bus, we feel that bus is a huge part of the solution to help clean our air, tackle congestion on our roads and take back more of our public spaces. We are working hard to make sure bus can become a viable and hassle-free solution for more people.
"We recently placed the UK's largest ever Zero Emission bus order outside of London, in keeping with our commitment to reaching a net zero bus fleet by 2035. We will continue to work closely with central and Local Government as well as each of the local communities in which we operate, across the UK to support the delivery of our shared decarbonisation ambitions and commitments"
For more information on bus services in your area: www.firstbus.co.uk
ENDS
Notes to editors
The research for First Bus was carried out online by Opinion Matters between 12/09/2022 and 14/09/2022 amongst a panel resulting in 2,003 responding. All research conducted adheres to the MRS Codes of Conduct (2019) in the UK and ICC/ESOMAR World Research Guidelines. Opinion Matters is registered with the Information Commissioner's Office and is fully compliant with the General Data Protection Regulation (GDPR) and the Data Protection Act (2018).
About First Bus
First Bus is one of the UK's largest bus operators. Making journeys easier for our customers, we were the first national bus operator to accept contactless card payments across all of our services and our First Bus App is voted 'best in class' amongst UK bus operators. Our most recent investments are in new, state-of-the-art buses across our key networks.
We work proactively with our local authority partners, making a positive impact on air quality, tackling congestion and improving customer experience. We are focused on First Bus becoming a leader in the transition to a low-carbon future and are committed to operating a zero-emission bus fleet by 2035; we have pledged not to purchase any new diesel buses after December 2022. We also operate the Aircoach network in Ireland.
First Bus is a division of FirstGroup.