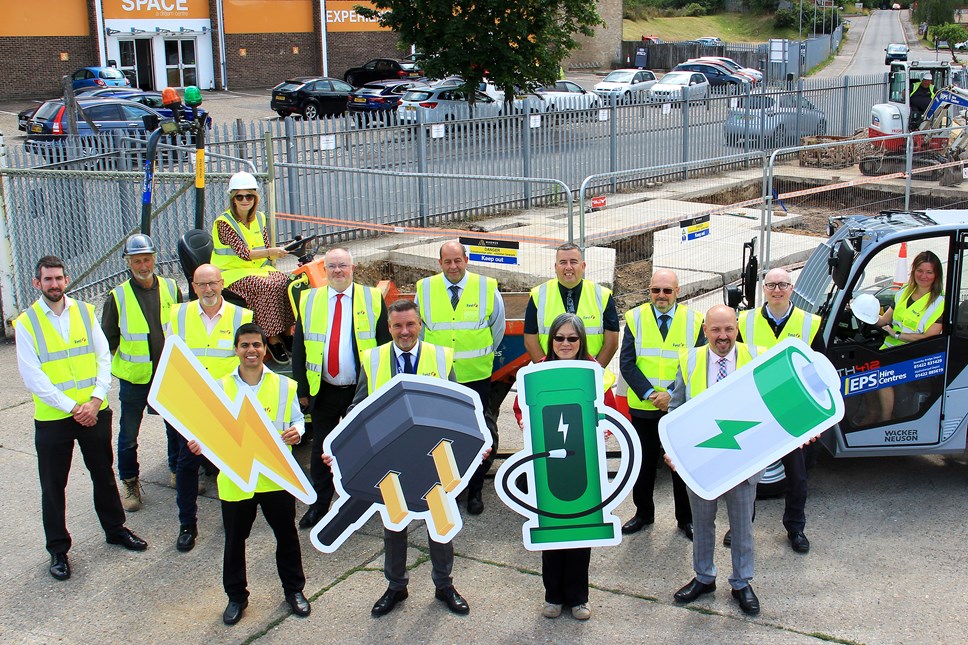 First Bus begin works to transform Norwich Roundtree Way to all-electric fleet depot
Works begin to convert Roundtree Way depot in Norwich into all-electric fleet depot.
The depot will become one of three all-electric fleet depots in the UK, outside of London.
70 Brand New Wrightbus vehicles, 11 single deck and 59 double deck buses, to be delivered from Autumn 2023 through to March 2024. 
Over 60 tonnes of tailpipe emissions saved per bus every year. 
First Bus has commenced ground-breaking work to transform its Norwich Roundtree Way depot into a fully electric fleet, one of the UK's first outside of London, as it prepares to receive 70 brand new electric buses scheduled to arrive between Autumn 2023 and March 2024.
By working together with Norfolk County Council an investment of £14.7m has been secured from the Department for Transport's Zero Emission Bus Regional Area (ZEBRA) government funding, alongside significant capital investment of around £22.5m from First Bus helping to fully electrify bus services at their Norwich Roundtree Way depot.
The introduction of the new bus fleet, built by UK bus manufacturer Wrightbus, means that over half of the Norwich network operated by First Bus will now be electric. That is over 60% of all bus journeys through Castle Meadow in the city centre.
Each electric bus will save up to 60 tonnes of tailpipe emissions per year. This great news for the local community, with First Bus and Norfolk County Council leading the way in reducing emissions to help make the city a cleaner, greener environment for people to live, work and enjoy.
To mark the start of construction, representatives from Norfolk County Council (Graham Plant, cabinet member for highways, infrastructure and transport, Lana Hempsall, deputy cabinet member, Jeremy Wiggin, head of sustainable transport and Niki Park, head of passenger transport) were joined by First Bus East of England Managing Director, Piers Marlow and First Bus Decarbonisation Delivery Director, Faizan Ahmad at the depot on Thursday (13 July).
Piers Marlow, Managing Director at First Bus Eastern Counties said: "This is an exciting project that will make a significant improvement to the journey experience for our customers and to the local environment with the arrival of 11 single deck and 59 double deck EV buses. A major transformation of our depot has started, and we are working closely with the site construction team to minimise any disruption to our day-to-day requirements to operate bus services efficiently.
"There are exciting times ahead for public transport in Norwich, and I am pleased that First Bus are leading the way and part of this extremely important partnership with Norfolk County Council. Their commitment and focus on improving bus provision in the area is commendable".
Graham Plant, Cabinet Member for Highways, infrastructure and transport at Norfolk County Council, said: "This work is an extraordinary boost to our ambitions to run a net-zero transport system in Norfolk and with the start of this work, we're proud to be able to say that Norwich will soon have one of the biggest full electric bus depots in England (outside London). The support that First bus has shown in bringing these vehicles to Norwich demonstrates the excellent working relationship we have with our bus operators here in Norfolk and how working together can help to achieve the very best for our county and the people that live, work and visit Norfolk".
Faizan Ahmad, Decarbonisation Delivery Director at First Bus UK, said: "The beginning of the work to electrify our Roundtree Way depot in readiness for the arrival of the new electric fleet later this year is a major milestone on the journey to bringing zero emissions vehicles to the Norwich network. We are proud to be working with trusted contractors and our Local Authority partners to deliver this program".
Michael Doherty, Managing Director at Stonewood Electrical Ltd, said: "Stonewood Electrical are proud to be part of this project continuing our work with First Bus in their mission to become a zero emissions national bus fleet operator. The completed project will provide cleaner air, green growth and improve public transport and health for the people of Norwich".
ENDS
Notes to editors
70 Brand New Wright Bus vehicles, 11 single deck and 59 double deck buses being will begin to be delivered from Autumn 2023 through to March 2024.
Over 60 tonnes of emissions saved per bus per year.
Solar panels have been fitted to the bus depot roof at RoundTree Way, energy produced is contributing to the building's requirements.
First Bus have placed an order for 328 fully electric buses partially funded through ZEBRA funding,
First Bus have pledged to reach a fully zero emission fleet by 2035 across all its UK Bus operations.