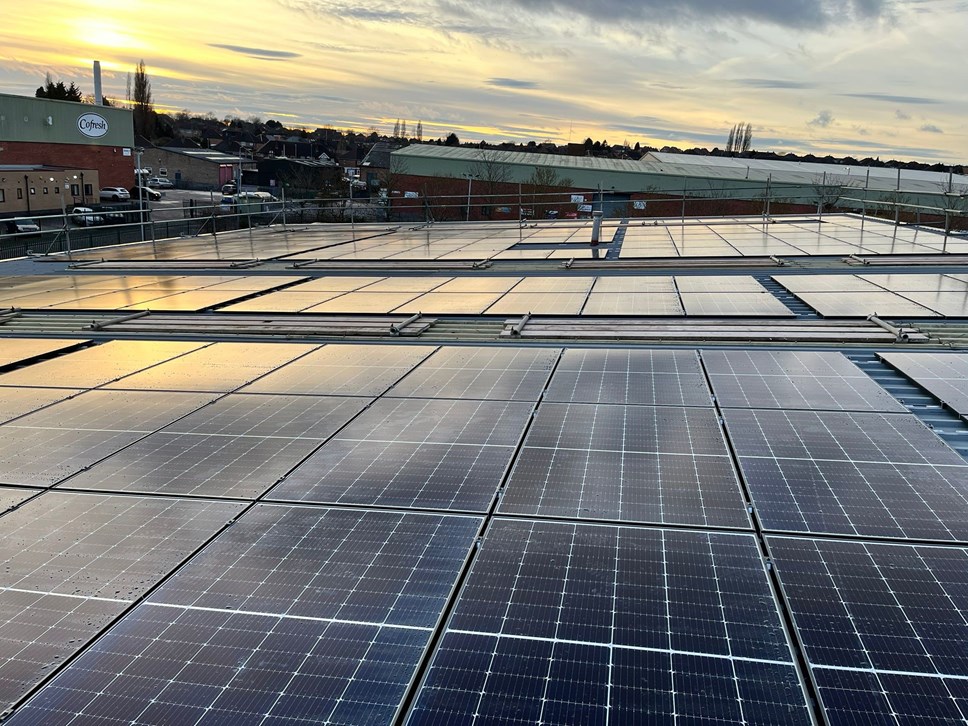 First Bus announces investment in solar power across 20 UK sites as part of net zero-emission strategy
First Bus invests £2.5m in solar power across 20 of its UK depots.
Over 6,000 Solar Photo Voltaic (PV) panels will be in place by mid-June.
The panels will generate more than 2 million kWh per year - enough to power 700 family homes.
This investment will help First Bus to become net zero and self-sustaining with on-site energy generation.
First Bus has invested £2.5m in solar power with the installation of over 6,000 solar photovoltaic (PV) panels across 20 depot sites as part of its net zero emissions strategy.
This investment is the latest step in First Bus' pledge to reduce the overall emissions generated by its bus operations, as it looks to achieve the ultimate goal of net zero-emissions by 2050 or earlier. This sits alongside its goal of achieving a zero-emission bus fleet by 2035.
As one of the UK's largest bus companies, First Bus is on a mission to make its depots self-sustaining – with the solar PV panels enabling the 20 sites to generate their own renewable power for lighting, heating, office equipment and the engineering bays.
The move will not only help local bus operations by reducing costs, but it will also significantly reduce each site's need to draw power from their local grid.
The solar PV panels already installed have been fitted to various areas of the roof on site, such as the engineering workshops, covering an approximate area of over 11,000 square metres. At peak output these will produce some 2 million kWh of energy a year – enough to power around 700 standard 3-bedroom homes.*
Jon Tivey, Head of Environment for First Bus UK, said: "We are delighted to announce the rollout of our solar PV programme across the UK, which will help us to significantly reduce our carbon emissions across 20 sites.
"This is yet another milestone in our transition to a low-carbon future across every aspect of our operations. As one of the largest bus operators in the UK, it's important that we lead the way in the industry and set an example for others to follow."
The panels are being installed and fitted by Manchester-based solar PV suppliers CorEnergy UK, with work on many of the sites already underway. The entire project will be complete by mid-June.
CorEnergy Managing Director, Tom Griffin, said: "CorEnergy is pleased to be supporting the ambitious net zero targets committed by First Bus, having been awarded the design and installation of an exciting renewable energy project to introduce solar PV solutions to 20 sites across the UK.
"In a time where all businesses are striving for carbon neutrality, this successful solar PV project will play a significant role in supporting First Bus to reduce greenhouse gas emissions and meet ongoing net zero objectives."
ENDS
*Calculation based on assumption that a standard 3-bedroom home consumes around 3MWh per year.
Notes to editors
Notes to Editors
The solar PV installs are being fitted in the following First Bus depots across the UK over the coming months:
Blantyre
Bridgwater
Bradford, Bowling Back Lane
Bristol Bus station
Camborne
Chelmsford
Great Yarmouth
Haven Road, Colchester
Huddersfield, Old Fieldhouse Lane
Leeds, Hunslet Park
York, James Street
Aberdeen, King Street
Leicester
Swansea, Ravenhill
Norwich, Roundtree Way
Scotstoun
Summercourt, Newquay
Truro
Bath, Weston Island
Weymouth
About First Bus 
First Bus is one of the UK's largest bus operators. Making journeys easier for our customers, we were the first national bus operator to accept contactless card payments across all of our services and our First Bus App is voted 'best in class' amongst UK bus operators.
Our most recent investments are in new, state-of-the-art zero-emission buses across our key networks. We work proactively with our local authority partners, making a positive impact on air quality, tackling congestion and improving the overall customer experience. 
We are focused on First Bus becoming a leader in the transition to a low-carbon future and are committed to operating a zero-emission bus fleet by 2035; having committed to not purchasing any new diesel buses after December 2022. We also operate the Aircoach network in Ireland. 
First Bus is a division of FirstGroup.  
Find more information on First Bus here: First Bus UK News